All you need to know about teaching grammar through guided discovery
Did you know that contrary to popular belief, Sherlock Holmes never uttered the words "Elementary, my dear Watson!" together? He has said 'elementary' in a handful of stories and 'My dear Watson' in most of them. However, as pointed out, the phrase was not used in any of Sir Arthur Conan Doyle's original works!
According to Longman Dictionary of Contemporary English, many people use the expression Holmes supposedly said to his amazed companion, Dr. Watson, humorously to say how easy something is to solve. If you are looking for a new approach to teaching English grammar that will allow your students to become detectives for a while, you'd better read our today's newsletter about guided discovery.
'Guided discovery, also known as an inductive approach, is a technique where a teacher provides examples of a language item and helps the learners to find the rules themselves', says the website of British Council. Scott Thornbury in his book 'How to Teach Grammar' gives an example of what guided discovery (or inductive approach) is "on arriving in this same country, you observe several instances of people rubbing noses on meeting so you conclude that this is the custom, and proceed to do likewise". But how can we use this in our EFL/ESL classrooms while teaching grammar?
Decide what grammar structure you want to teach. If you would like to use this approach, there are 6 easy steps to remember:
Step 1. Find a suitable context.
This can be done through reading a text, an article or a blog, Instagram post, comics, listening to a song (with lyrics), watching a video – everything that might spark interest in your students. The main thing to remember: it must have examples of the language you are going to teach. The more, the better.
Step 2. Observe and analyze the structure's meaning, form and pronunciation.
This is the stage where you must help your students observe and analyze the language structure. This can be done by asking concept checking questions (CCQs). The alternative to asking CCQs can be: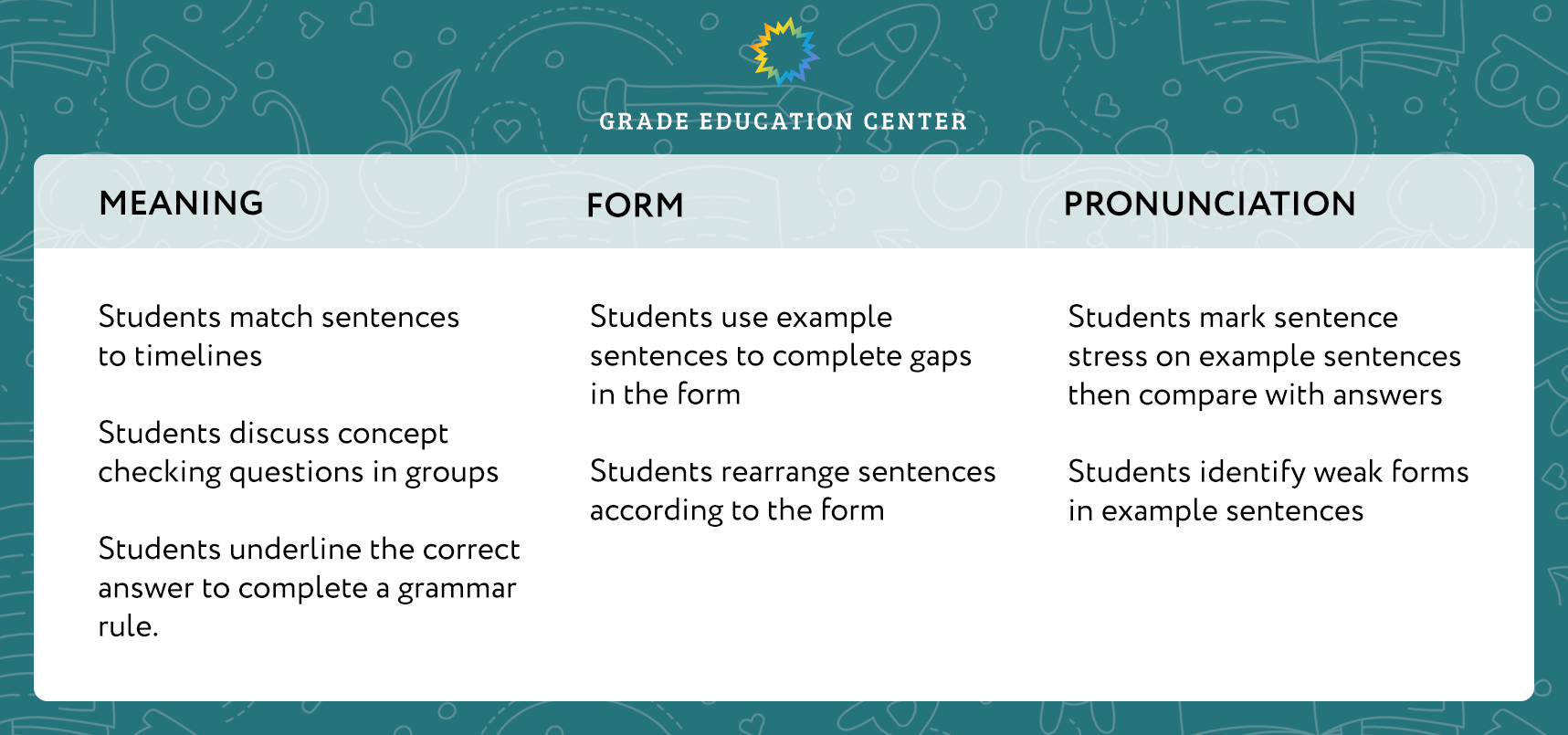 Step 3. State the rule.
Using the information from step 2 get your students to state the rule. Don't forget to write everything they say on the board. The students will feel extremely motivated and confident if they correctly produce the grammar they've never learnt before.
Step 4. Practice.
It's time to practise the new language. The tasks may include controlled practice such as matching, filling in the gaps, close-ended questions.
Step 5. Think of relevant context and give students freer practice.
These might be more communicative and meaningful tasks like open-ended questions for discussion, role-playing, writing tasks etc.
Sometimes guided discovery takes longer than teacher-centered presentations. However, students are much more likely to remember things they have had to work on to discover by themselves.
It is more difficult for the teacher to manage the classroom due to a lot of monitoring while doing guided discovery, but it makes lessons more active and engaging with much higher levels of student interaction because it uses peer teaching which has a strong effect on the memory and encourages communication.
The teachers often have to design the guided discovery tasks by themselves, which takes time and experience. On the other hand, you create your own resources from scratch.
And probably the most important benefit of this approach is that you make activities student-centred.
If you would like to read more about this approach and how it can be used at different levels follow the links below:
— G is for Guided Discovery (by Scott Thornbury)
— Guided Discovery for Language Instruction: A Framework for Implementation at all Levels
— Guided Discovery Grammar Instruction: A Review of the Literature with Original Teaching Materials
— The Discovery Technique For Teaching Grammar: Just Get Out Of The Way And See How Much Your Students Can Learn
— Grammar teaching: The discovery technique (an example activity)
— Teaching ESL Students to "Notice" Grammar
We also highly recommend watching this webinar Work it out yourself - Helping students with grammar on guided discovery, with Chris Redston, the author of 'Face2Face'. The webinar includes a variety of practical ideas that teachers can use in the classroom.



Do you teach English at a secondary school? We offer you special discounts on General English courses: 15% if you pay for each term and 20% if you play for the whole course. It is a wonderful opportunity to upgrade your command of English in our summer intensive courses. How to get your discount? Just write in the comment GradeTeacher and tell the administrators at your workplace.