| | IABSE Newsletter August 2020 |
| --- | --- |
Registrations extended until August 26 - Register Now and Inform Others!
To read more information and register for the Online Conference, please click here.
• IABSE Members (All Types): Free Registration
• Non-IABSE Members: Registration Fee CHF 100.
Young engineers born in or after 1986 will receive FREE one-year IABSE Online Membership.
Note: For additional payment option using WeChat Pay, AliPay, and Paypal, please use the IABSE Online Shop.
The registration includes access to the conference programme including:
1. Opening and Closing Sessions, all presentations including 4 keynote speakers and 16 invited speakers, 4 live Q&A (end of half days) with the following format:
• Presentations: Pre-recorded
• Chairing: Live
• Q&A Discussion: Live
• Language: English
• Discussion: Live
2. Recent Structures video presentations during Lunch breaks.
3. Access to the Conference (recorded) after the event.
4. Conference Proceedings (ePDF).
Join and support IABSE!
Update - IABSE Symposium Wroclaw 2020 – Going Virtual
After re-assessment of the pandemic situation and recent safety for symposium participants it has been decided to change the IABSE Symposium Wrocław 2020 "Synergy of Culture and Civil Engineering – History and Challenges" which will be held on October 7-9, 2020, from a traditional format to a fully online hosted event.
Registration for Virtual Participation is now open on the symposium website, and we extend our hearty invitation to you to join us for an excellent technical programme and interactive discussion during the live sessions.
More details will be published on the conference website www.iabse.org/Wroclaw2020 in early September.
IABSE Upcoming Webinar on 18 September 2020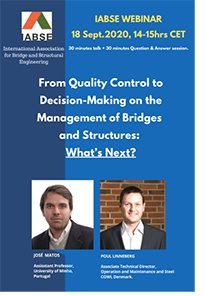 On 18 September 2020, 14-16 hrs, Zurich time: This Webinar will be held on the topic 'From Quality Control to Decision-Making on the Management of Bridges and Structures: What's Next?' If you wish to take part, then please register by Sept. 10th (free for members and non-members). Register here! After registering, you will receive a confirmation email containing information about joining the meeting. Our Speaker and Moderator will be Jose Matos, Asst. Prof. University of Minho, Portugal (IABSE Vice President) and Poul Linneberg, Assoc. Technical Director, Operation and Maintenance, COWI, Denmark
IABSE Commission 3 and 5
SEI August issue has interviews with;
IABSE Commission 3 Chair, Richard Stroetmann
IABSE Commission 5 Chair, Rade Hajdin.
Commission 3: Structural Analysis and Evaluation
TG3.1 Super Long Span Bridge Aerodynamics Chair: Giorgio Diana, Italy
TG3.4 Concrete Structures Chair: Mike Schlaich, Germany
TG3.5 Time-dependent Behavior and Design of Composite Steel-Concrete Structures
Chair: Gianluca Ranzi, Australia
TG3.6 Artificial Intelligence in Structural Engineering Chair: Vesa Järvinen, Finland

Commission 5: Existing Structures
TG5.1 Forensic Structural Engineering Chair: John Duntemann, USA
TG5.2 Key Performance Indicators: Definition Chair: Jose Matos, Portugal
TG5.3 Diagnostics: Organization and Data Requirements Chair: Jan Bien, Poland
TG5.4 Structure Management Systems (SMS): Survey on Implemented Decision-making Models Chair: Poul Linneberg, Denmark
TG5.5 Conservation and Seismic Strengthening/Retrofitting of Existing Unreinforced Masonry Structures Chair: Andreas Lampropoulos, UK
If you are interested in joining any of the Task Groups listed in both these Commissions, contact us secretariat@iabse.org.
UPDATE: IABSE Conference Seoul 2020

Risk Intelligence of Infrastructures will be held from 9-10 November 2020. New: IABSE Conference Seoul 2020 originally planned as a 'classical' in person conference, will now be held as an Online/Offline Hybrid Conference.

UPDATE: IABSE 2020 Congress Christchurch

Due to the current situation, the Local Organising Committee of IABSE Congress has recently decided to convert this event into a virtual Event on 3-5 February 2021. They will soon provide details on the official Congress website.
Published - SEI August 2020 (online and hardcopy)
Bangladesh

IABSE-JSCE Online Conference on Advances in Bridge Engineering-IV, 26-27 August 2020

This conference organised by the Bangladesh Group of IABSE with JSCE, is offering free registration and aims to present over 50 research papers and 7 Keynote papers by prominent speakers over two days. For details: Click Here (Website).

Mandatory (free) pre-registration: https://rb.gy/lu2n9q

Chile, Costa Rica, Ecuador, Colombia, and Mexico

Second Latin American National Groups Meeting

In July, several Chairs of the National Groups (NG) from Latin America held their second regional meeting. The meeting was called by IABSE Vice President, Carlos Mendez, and attended by the chairs of the NG from Chile, Colombia, Costa Rica, and Mexico. We also had a special guest from Argentina. The objective was to strengthen the collaboration among NGs and to plan the coming events in the region.

Philippines

On 27 July 2020, the Philippine Group of IABSE launched a video-webinar on "Structural Engineering: Outstanding & Novel Achievements". To view the videos: Click Here!
Korean Republic
On 20 August, the technical short programs in smart design and construction related to structural engineering under the topic 'Ready for Smart Technology' was offered by the Korean Group of IABSE. This program was designed to prepare for the smart construction that has become an urgent issue internationally and domestically, far faster than expected, along with the economic revitalization issue, post Covid-19. For more details, click here!
| | Outstanding Structure Award Nominations Deadline: 31 August 2020. You are requested to read the updated Standing Order, download the template and submit the nominations (new categories from 2020). |
| --- | --- |
Hurry before this promo ends!
Check out our Co-Sponsored events
Members News and Topical Interviews
MAURER (Collective Member): Record Bridge in Shanghai with expansion joints from Munich.
Hutong Bridge on the Yangtze requires 36 m-long expansion joints with longitudinal movements of 1800 mm.
Once again, China has built a record bridge: since July 1, 2020, the Hutong Bridge with a length of 11 km has been connecting Shanghai at the south bank of the Yangtze delta and Nantong at the north bank. For the main bridge featuring a span width of 1,092 m, swivel-joist expansion joints were required that allow for a movement of almost 2 meters in longitudinal direction at both bridge ends. The expansion joints were manufactured at MAURER in Munich.
Read further details here.
Jose Matos, IABSE Vice President, is sharing videos from the recent EuroStruct webinars to IABSE Members:
1. Improvement of bridge inspection in Germany by including innovative technologies and further training of inspection staff, by Ralph Holst, Click Here.
2. Probabilistic Modelling of Traffic Loading for Higher Tier Assessment of Bridge, by Colin Caprani, Click Here.
3. International activities associated with the lifetime performance of existing infrastructure systems; by Alfred Strauss: Click Here.
We thank our Members for sharing knowledge and information!
Connect and Share! For any recent Member News, or Company news, please send us the new article by end of the month for inclusion in next month's Newsletter. If you wish to share any important online resource which could benefit our members, or share a talk on an interesting topic, please send it to bose@iabse.org. We would particularly encourage our IABSE Members to share their knowledge and experience with our young members during this lockdown period with either 'live webinars' or 'pre-recorded lecture sessions'. All the more reason to stay connected and inspired! Please contact us if interested.
Contact

IABSE
Jungholzstrasse 28
8050 Zurich
SWITZERLAND

Phone: +41-43-443 97 65
Email: secretariat@iabse.org


Follow us on Social Media