| | IABSE Newsletter July 2020 |
| --- | --- |
IABSE reacts to COVID-19 with an Online Conference!
The COVID-19 pandemic has created unprecedented consequences across the globe and has affected the traditional IABSE events planned for the year 2020 that aim at exchanging knowledge and advancing the practice of structural engineering worldwide.
To cope with such circumstances, IABSE puts forward the IABSE Online Conference 2020, which is a new IABSE event format. With the unappeased COVID-19 pandemic, IABSE is launching it's first Online Conference to be held on 2-3 September 2020 via Zoom Platform, and this will address the current pandemic situation.
Facing the New Age! - How do structural engineers tackle the COVID-19 era?
To address the new challenges structural engineers across the globe are confronting in the field of disaster reduction and mitigation, the maintenance, and rehabilitation of structures, digital solutions for structural engineering, international cooperation, etc.
With a series of curated topics and content from 20 speakers of diverse background, the IABSE Online Conference 2020 will enable designers, consultants, researchers, students, owners, contractors, authorities and other interested participants alike to gain latest insights in the international bridge and structural engineering community on the virtual platform of Zoom and exchange ideas in four dedicated live Q&A discussion sessions.
Registration Fee
IABSE Members: Free
Non-IABSE Members: 100 CHF (Young Engineers will receive one-year online membership).
For more information, please visit: www.iabse.org/Online2020
IABSE Lecture Series 2020 and 2nd successful Webinar!
On 3 July 2020, IABSE held its second successful Webinar on the topic 'Characteristic Seismic Failures', co-organised with ECCE, with the Speakers:
Stephanos Dritsos, Emeritus Professor, University of Patras, Greece; Andreas Lampropoulos, Principal Lecturer, University of Brighton, UK; Eftychia Apostolidi, Boku University, Vienna, Austria; and Christos Giarlelis, from Equidas Consulting Engineers. There were over 500 registrations for the Webinar which was also broadcasted live on Facebook, which gathered over 1200 viewers. The speakers are among the authors of the recently published IABSE SED 16 'Characteristic Seismic Failures of Buildings' and are members of two IABSE Task Groups "TG1.1 Improving Seismic Resilience of Reinforced Concrete Structures" and "TG5.5 Conservation and Seismic Strengthening / Retrofitting of Existing Buildings and Historical Structures" and are planning to organise a series of webinars in coming months, related to Seismic Resilience of Structures. The video has been uploaded in IABSE's eLearning Lecture 2020 series if you did not get the chance to attend you can also view it there, along with the first Webinar by Fabrizio Palmisano in June.
IABSE 2020 Symposium Wroclaw - Update!

7-9 October 2020

The OC has the following update: "As we are 3 months before the Symposium and the situation is still uncertain, we have decided to offer a new opportunity to attend our conference. We have added 'Virtual Participation' a safer option for participants to join the Symposium at reduced prices.

We firmly believe that this will enable many participants to join the event and meet the safely safety requirements, read full message ...

22-24 September 2021

Message from OC: "We have decided to follow the unofficial motto of our city, which goes somewhat like: 'Do not complain, never give up'! Regardless of what the situation will be next year, we will try our best to organise a great IABSE event in different formats for participants to choose from to ensure their safety. Our online part will include live-streaming all sessions and will allow attendees and speakers to participate from home as well as on-site." Read the message from the OC and the SC...

25-27 May 2022

'Challenges for Existing and Oncoming Structures Structures' Save-the-Date!
Announcement of IABSE's New Website!
Our colleague Firat Cicek, IT and Administration has been working day in and day out to finish our new website with a scheduled launch on July 1. Finally, we're excited to announce our new and fresh looking website www.iabse.org.
This newly designed website provides not only a new look but to improve the browsing experience of our visitors. This user-friendly, secure, and responsive design will facilitate easy browsing using desktop and mobile devices. Also, it is designed to let visitors find the latest information about IABSE's events, members and National Groups activities right from the Homepage.
We've also improved the content structure, payment system, back-office and more. We hope you like the changes, and if you have any feedback, please let us know: firat@iabse.org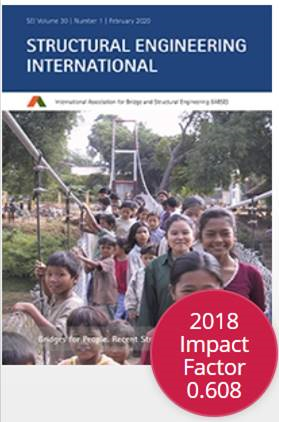 News: SEI Journal's 2019 Impact Factor (IF) has gone up to 0.672 from last year.
SEI Call For Abstracts: Deadline September 30, 2020
SEI May 2022: Special issue on the Dynamics and Aerodynamics of Slender Structures.
Guest Editors: Elsa Caetano, Teng Wu, Guido Morgenthal
Dynamic and aerodynamic studies have been occupying an increasing space in the design, analysis and characterization of slender structures. Leveraged by enormous advancements in computational resources, storage capacities and data transmission bandwidths, digitalization has supported new approaches to modelling, simulation and visualization of dynamic effects on structures. This has facilitated the optimized use of materials, shapes and systems in radically new designs. The characterization of different types of complex dynamic actions (wind, pedestrian, traffic), the rigorous numerical analysis of their effects, but also the identification of the structural condition through dynamic response measurements of aged structures have seen considerable developments in the last few years. Read the Call for Abstracts.
Chile, Columbia, Costa Rica and Mexico

First Latin American National Groups Meeting

On 18 June, several Chairs of the National Groups (NG) from Latin America held their first regional meeting. The meeting was called by IABSE Vice President, Carlos Mendez, and attended by the chairs of the NG from Chile, Colombia, Costa Rica and Mexico. We also had a special guest from Argentina. The objective was to strengthen the collaboration among NGs and to plan the coming events in the region.

Russia

Conference and NG meet

On 27 February, the meeting of the Russian Group of IABSE was held at the Rossiya Hotel in St. Petersburg, which was organized in parallel with the road/bridge conference, where Jose Matos was one of the keynote speakers, and met the NG later to discuss IABSE matters.
Dear National Group Chairs and Secretariats,
1. Outstanding Structure Award Nominations: Deadline extended to 31 August 2020:
Please note 30 August 2020, is the extended deadline for submission of IABSE Outstanding Structure Award Nominations. You are requested to read the updated Standing Order, download the template and submit to us the nominations (new categories from 2020), and showcase your country's landmark structures. Take the opportunity and submit!
2. To gain new members in your country, IABSE has a new promotion. Please use it and urge non-members to join IABSE and share its mission:

As the world slowly embraces the "new normal" through the crisis that the COVID19 pandemic has brought to society, IABSE remains at the forefront to champion knowledge exchange among its global network of professionals and experts in the field of structural engineering. We invite you to take part in this mission and engage in scientific and technical activities by joining the association. In spirit of solidarity, IABSE offers new joiners 50% discount on their first year of membership. Register now on and use promo code IABSESTRONG.
Check out our Co-Sponsored events
Members News and Topical Interviews
Jose Matos (IABSE Vice President) representing EuroStruct conducted following webinars in association with IABSE, and shared following video links for ourMembers:
1. Conservation of the built cultural heritage earthquakes, methodology, research, applications, challenges of the digital age and more. Click Here.
2. Lessons from Recent Bridge Collapses w/ Rade Hajdin: Click Here
3. Digital Twins for Construction w/ Rafael Sacks: Click Here
4. Challenges & Directions Towards a Sustainable Built Environment w/ Michael Havbro:
Click Here
5. Climate Adaptation of Infrastructure Assets: Click Here.
6. An Overview of Forensic Structural Engineering Practice: Click Here.

Wai-Fah Chen (SEI Advisory Board) from the University of Hawai, sent us an article about the 'Golden Gate Bridge' to share with our members: Click Here
Ian Firth (British Group of IABSE, Chair) will be the Keynote Speaker in the International Conference on Spatial Structures, which is an event that takes place every nine years since 1966. The seventh conference of the series will be held on 23-27 August 2021 in Guildford, as a joint event with the Annual Symposium of the International Association for Shell and Spatial Structures (IASS): Click Here. You can also watch their new launch 'Movers and Shakers' of the Spatial Structures field: Interviews on YouTube.
We thank our Members for sharing knowledge and information!
Connect and Share! For any recent Member News, or Company news, please send us the new article by end of the month for inclusion in next month's Newsletter. If you wish to share any important online resource which could benefit our members, or share a talk on an interesting topic, please send it to bose@iabse.org. We would particularly encourage our IABSE Members to share their knowledge and experience with our young members during this lockdown period with either 'live webinars' or 'pre-recorded lecture sessions'. All the more reason to stay connected and inspired! Please contact us if interested.
Contact

IABSE
Jungholzstrasse 28
8050 Zurich
SWITZERLAND

Phone: +41-43-443 97 65
Email: secretariat@iabse.org


Follow us on Social Media