| | IABSE Newsletter June 2020 |
| --- | --- |
IABSE AWARDS 2020 ANNOUNCEMENT
Honorary Memberhsip

Honorary Membership 2020 is presented to Professor Fernando Branco, Portugal; 'in high appreciation of his outstanding and dedicated services to the Association.'

Read further:
Honorary Membership Award 2020

Honorary Membership

Honorary Membership 2020 is presented to Professor Ekasit Limsuwan, Thailand; 'in high appreciation of his outstanding and dedicated services to the Association.'

Read further:
Honorary Membership Award 2020
IABSE Early Career Prize

The IABSE Prize 2020 is presented to Dr. Carles Estruch, Spain, 'for his expertise gained while working in the fields of research, design and construction—contributing in a holistic way to the field of structural engineering.'

Read further:
IABSE Early Career Prize 2020

IABSE Award of Merit

The International Award of Merit in Structural Engineering 2020 is presented to Professor Ahsan Kareem, US; 'For his fundamental contributions to quantification, modeling and analysis of wind load effects in structural design through research, teaching, service, and practice.

Read further:
IABSE Award of Merit 2020
Scientific Paper (OPA)

For 'Scientific Paper' category the Outstanding Paper Award (OPA) 2020 is presented to: SEI, Vol.29, May 2019, 'Once upon a Time in Italy: The Tale of the Morandi Bridge' by the Authors Gian Michele Calvi et al.
Download the paper and read further!

Technical Report (OPA)

For 'Technical Report' category the Outstanding Paper Award (OPA) 2020 is presented to: SEI, Vol.29, May 2019, 'River Irwell Crossing—UK's First Network Arch Bridge' by the authors Rusi Rusev et al.
OUTSTANDING STRUCTURE AWARD 2020
Winner: Hong Kong Zhuhai Macao Bridge, China
Outstanding Structure Award (OStrA) 2020 is presented to the Hong Kong Zhuhai Macao Bridge, China, 'It is the world's longest sea-crossing link and consists of reclamations, artificial islands, immersed tunnel, marine viaducts and cable-stay bridges. It can be seen from land, sea and air and its design has been driven by aesthetics, environmental, engineering and durability aspects.' Read Further Here.
| Samuel De Champlain Bridge, Canada | Halogaland Bridge, Norway | |
| --- | --- | --- |
Deadline for 2021 Outstanding Structure Awards Nomination: 30 August 2020 - Extended!
Please read the Updated Standing Orders, and download the Nomination Template from here. As an exception, due to Covid-19, OstrA Chair, Naeem Hussain, decided to extend the submission timeline for another month, so that more National Groups can take this opportunity to present the landmark buildings and bridges from their countries for this prestigious award. 2021 Nominations for the very first time shall include TWO different categories:
(1) Bridge or other Infrastructures
(2) Building or other Structure.
Take this opportunity and submit: Click Here!
IABSE's 2nd Webinar on 'Characteristic Seismic Failure'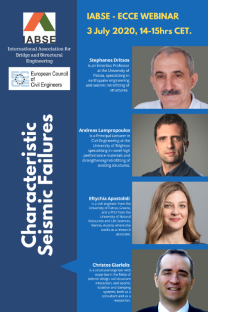 After the success of the first IABSE Webinar by Fabrizio Palmisano dated 12 June 2020, we immediately organised the second webinar jointly with the European Council of Civil Engineers (ECCE) on 3 July 2020. The webinar already has over 200 participants in just two weeks and we are still open to registrations, so take the opportunity and register here. We shall make this webinar available at the 'IABSE eLearning' platform along with previous lectures. So, if you didn't manage to register, you should still get access to the webinar on these important topics. IABSE's mission is to share knowledge and provide a platform to share and learn for structural engineers. Spread the word and invite your colleagues to join IABSE in its mission.
This will be a 1 hr Webinar on the topic 'Characteristic Seismic Failures', with an approx.45 minutes of lecture/discussion and 15 minutes of Q&A. This webinar's speakers are: Stephanos Dritsos, Andreas Lampropoulos, Eftychia Apostolidi and Christos Giarlelis. IABSE shall launch a series of webinars on the topic: Seismic Resilience of Structures. The first webinar entitled "Characteristic Seismic Failures" aims to present in a concise and practical way the state of the art of current understanding of building failures due to earthquakes. Failures of Different types of seismic failure of reinforced concrete and masonry buildings together with geotechnical aspects are classified and the reasons for each failure are explained along with good practices to avoid such failures. Furthermore, seismic retrofitting / upgrading procedures for pre-earthquake strengthening and post-earthquake repair and/or strengthening techniques for all the examined cases are proposed. IABSE Task Group 1.1 and 5.5 are focused on seismic strengthening and retrofitting strategies aimed towards earthquake-resilient structures.'
Wish to receive notification for our next webinar? Please sign-up here.
Wish to share your knowledge through IABSE's live Webinars or 2020 Lecture Series?
Please contact B. Bose at bose@iabse.org.
IABSE's 2020 Lecture Series and Videos (eLearning)
IABSE Members are sharing their knowledge and expertise for the benefit of young engineers and colleagues, especially during this lockdown period. To watch the presentations, please visit the IABSE website at www.iabse.org and click on the E-Learning menu. Feel free to share the videos to join us spread the knowledge.
Lecture topic: 'Artificial Intelligence by TG3.6 Chair, Vesa Järvinen, Finland

Lecture topic: 'Shear Testing of Prestressed Concrete Bridge Girders' by Eva Lantsoght, SEI Editorial Board Member, The Netherlands

IABSE's First Webinar by Fabrizio Palmisano: Click Here!

Dr. Palmisano conducted a successful and well attended webinar, representing IABSE's Task Group 5.1 on the topic: 'Forensic Structural Engineering' on 12 June 2020. We thank him for taking this initiative, and thank all our participants for their engagement and participation.
IABSE Congress Ghent 2021: Call for Abstracts open!
Abstracts should address the conference theme 'Structural Engineering for Future Societal Needs'. These needs comprise building and maintaining safe and reliable buildings and infrastructures while coping with the effects of climate change in a world with scarcer resources and satisfying the ambition to reduce mankind's CO2 footprint. Anticipated sub-themes are therefore amongst others: Click Here for further information.
| IABSE Symposium Wroclaw 2020 which was supposed to take place on 20-22 May 2020 is now rescheduled to take place on 7-9 October 2020. Early Bird Registration has been extended till July 15, 2020! | Risk Intelligence of Infrastructures will be held from 9-10 November 2020. Notification of the conference format will be announced soon. | |
| --- | --- | --- |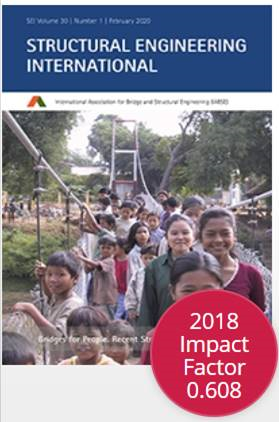 SEI Call For Abstracts for two Special issues!
SEI November 2021: Bridge Conceptual and Aesthetic Design
Bridge conceptual and aesthetic design is a very important and difficult issue in bridge engineering. Aesthetic considerations not only significantly affect design and construction costs, but they also critically impact those who perceive and use a bridge. However, unlike structural bridge analyses which can be performed using well established procedures and formulae, there are currently no simple universally accepted conceptual and aesthetic design methods and criteria. Read further.
Abstract Submission Deadline: 30 June 2020
Full Paper Deadline: 15 September 2020
SEI February 2022: Dynamics and Aerodynamics of Slender Structures
Dynamic and aerodynamic studies have been occupying an increasing space in the design, analysis and characterization of slender structures. Leveraged by enormous advancements in computational resources, storage capacities and data transmission bandwidths, digitalization has supported new approaches to modelling, simulation and visualization of dynamic effects on structures. Read further.
Abstract Submission Deadline: 30 September 2020
Full Paper Deadline: 30 December 2020
Bangladesh

Advances in Bridge Engineering-IV

From 26-27 August 2020, Bangladesh Group of IABSE is organising a joint online conference with JSCE. The Conference Sessions will be live and shared in social media. The conference will be free for joining for all members of IABSE and JSCE (Japan Society of Civil Engineers), provided registration is received on time. Non-members will have a small-fees for participation.


Further information in: www.iabse-bd.org/2020

Romania

Building Construct-Student Contest

On 27 May 2020, about 140 students with 22 works took part in the 'Building Construct-Student Contest' which was supported with an online conference organised by the Romanian Group of IABSE, chaired by Corneliu Bob.
Check out our Co-Sponsored events
Uni Minho: The Institute for Sustainability and Innovation in Structural Engineering (ISISE, www.isise.net) is a leading research unit in Portugal with about 250 researchers. ISISE is looking for a motivated and high-quality PhD student in one of the following topics:
Combination of drones and fibres for the development of an advanced integrated approach for observation and rehabilitation of road pavements
Development of semi-flexible heavy-duty pavements: towards enhanced performance and sustainability

Strengthening of asphalt and cementitious concrete with bio-based materials

Development of Optimised Earthen Building Elements
Applications are open until August 15.
Applications should be submitted to gestao.isise@civil.uminho.pt.
COWI: The fundamentals of suspension bridge deck design has remained unchanged for the past 60 years almost. Recently a study was published by COWI and DTU - Technical University of Denmark which looked into how bridge structures can be optimised to reduce the weight of bridge decks through reducing material use, altering the structural design by using methods predominantly used in the vehicle and aircraft industries and how we can lower CO2 emissions. To find out more about the study Click Here!
Ahsan Kareem: Our IABSE International Award of Merit 2020 winner, also recently won following awards:
(1) 2019 Best Paper in ASCE's Journal of Structural Engineering (Structural Hazards)
(2) ASCE Ernest E.Howard Award
(3) Hojjat Adeli-Wiley Blackwell 2019 Award for Innovation in Computing.
Connect and Share! For any recent Member News, or Company news, please send us the new article by end of the month for inclusion in next month's Newsletter. If you wish to share any important online resource which could benefit our members, or share a talk on an interesting topic, please send it to bose@iabse.org. We would particularly encourage our IABSE Members to share their knowledge and experience with our young members during this lockdown period with either 'live webinars' or 'pre-recorded lecture sessions'. All the more reason to stay connected and inspired! Please contact us if interested.
Contact

IABSE
Jungholzstrasse 28
8050 Zurich
SWITZERLAND

Phone: +41-43-443 97 65
Email: secretariat@iabse.org


Follow us on Social Media